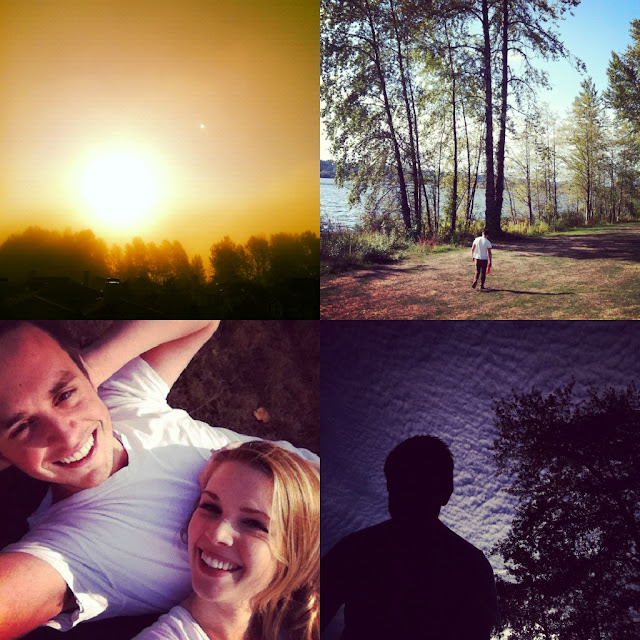 If you follow along on instagram, then you know the sweet little things I've been up to lately. But for those of you who don't, currently..
I've been waking up early to watch the sunrise. Heading to the lake to toss the frisbee around. Enjoying these last few days of sunshine laying out on the grass. Looking up at the cloud filled sky.
WATCHING: I hate to admit it but I've been on a re-runs kick of The Hills. I forgot how much I loved LC, the on-off relationship of Audrina and Justin Bobby, and the scary downward spiral of Speidi and their healing crystals. To be honest Speidi really did freak me out. And I feel sad for Heidi and her irreversible surgery. But it's like that train wreck that you just can't look away from.
PLAYING: I have the new Mumford & Sons album on repeat, of course.
DREAMING: Traveling the world has been on my mind a lot lately. And with a possibility of the mister having a 6 month work period abroad next year (getting to take me, YAY!), I can't help but daydream of where our lives could take us. Paris, Munich, Florence, Dublin. Where would you choose?
EATING: Hard core snacking onTim's Jalapeno chips. BAD. Even worse because they are my breakfast. Don't judge.
WORKING ON: The baby sister-in-law and I have been busy working on blog designs for some lovely ladies as of late. We've had so much fun creating our little Den of Thieves business and helping to create the space that our clients have been envisioning.