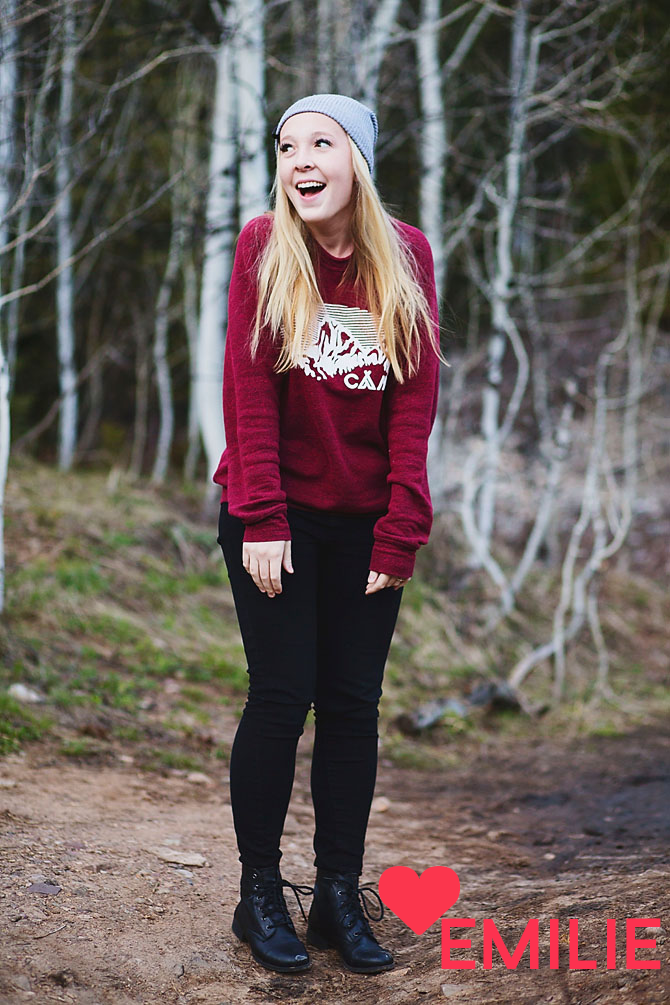 NAME: Emilie Woodhead
AGE: 21
LOCATION: Salt Lake City
CAREER: I am a full time wedding photographer! I am absolutely in love with my job and with capturing people's love for each other! I get to meet so many new people and have so much fun while doing something I'm very passionate about. I also photograph my travels, adventures, and fine art portraits for my personal work! You can find my website at Emilie Ann Photography for more details!
… A TYPICAL DAY: A typical day for me involves waking up and either going to the gym or trying some new workout I saw on pinterest! Then the rest of the day would include editing photo shoots, answering emails, and either heading to photograph a wedding or an engagement or bridal shoot! In my free time I'm obsessed with the outdoors so I would probably either go on a hike or just take my camera out to the mountains to capture some photos. Other than that I would just chill with my family and sweetheart and watch a movie or just hangout around the house or around town *cough* or the mall *cough*. I have a slight obsession with clothes.
OUTSIDE OF WORK: Outside of work I attend Utah Valley University and am majoring in Art and Visual Communications! I'm graduating Spring 2015! Wahoo! I'm obsessed with branding and helping people follow their own business dreams. One day I hope to be able to hold workshops for photographers and become a motivational speaker. I'm an avid believer in Mexican food, beanies, and thrift shops and am always checking the local spots for cool furniture or treasures. I spend most of my time with my family and my love Tyler! I'm definitely a life-enthusiast and free spirited person who is always up for anything and for just living life to the fullest.
NEXT BIG PLANS: This Summer is a chalk-full of weddings that I'm so excited to photograph! And after finishing up school this year I'm hoping to travel to Europe to see the art I've been studying for the past 2 years!
SUMMER STAPLE: The Kimono!! Seriously, I have multiple kimonos and they are just so flowy and pretty! They're so easy to just throw on top of a t-shirt or tank top to dress it up a bit and they are so comfy!! I can't get enough of them!