hey readers! keeping up with the tradition of awkward and awesome is one of my lovely sponsors, stephanie. she has just the cutest little blog, and as gorgeous as ever! enjoy, and happy awkward and awesome thursday!
----------------------------------------------
Hello everyone! I'm Stephanie. Don't you just adore Lady T? She's a doll and I'm thrilled to be sponsoring her this month. Come visit
my little blog
where I blab about nothing in particular. I post about clothes and food and love and college and family and taking pictures and everything between.
Christmas now. Christmas then.
This really is the most wonderful time of the year. There's something so magical about the Holidays, even as an adult. The best thing about this time of year is how awkward AND awesome things can be. Oh man, relatives really can make things so exciting.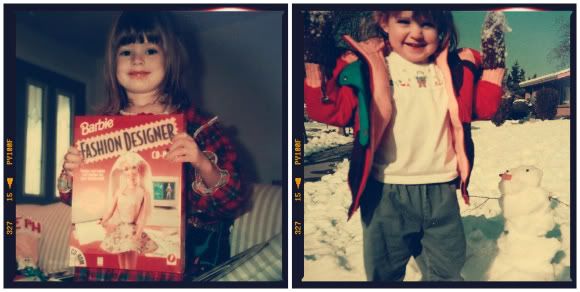 Awkward:
- Getting a present from your grandparents that they already gave you the previous year.
-Giving a gift and hearing "Oh, well uh, I have a present for you... I'll run it by in a few days…" Well dear, I wasn't expecting you to give me anything, and you obviously weren't either. Awk-ward.
-Opening a gift whose contents you already know…and acting surprised.
-Spending Christmas with your grandma who stuffs your stocking with last year's hard licorice and random goodies found in her house.
-Gift-giving on a college budget.
-My chapped lips in that photo with my Fashion Designer "software."
-Being 6,000 miles away from one you love on Christmas. Boo.
Awesome:
-Being home for meals that are cooked for you by someone else.
-Wee little snowmen.
-Playing with my ah-dorable neice and nephew. Those babies make Christmas wonderful.
-Sipping cocoa under twinkling lights.
-Barbie Fashion Designer. Best. Present. Ever.
-Un-wrapping presents. That magic never dies.
-Skype-ing a cute boy on Christmas Day. I can hardly wait
:)
P.S. This month, I'm having some pretty fabulous giveaways over on the blog. I'm giving away my favorite things, once a week. Friday is the last day to enter
this giveaway.
Merry Christmas
xoxo Stephanie